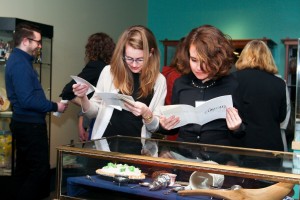 On April 4th and 5th, we celebrated the anniversary of the creation of the Graduate Group in Archaeology, Classics, and History of Art, and the achievements of this outstanding program. More than eighty alumnae/i, current graduate students, faculty, staff, and friends of the program gathered to share in the occasion. The event began with a dinner on Friday night, culminating in an amazing keynote address by Elizabeth Cropper (PhD. '72) on the value of interdisciplinary study (in general and in her own work). Saturday morning featured engaging panels of alumnae/i presenting in the style of the Graduate Group Seminar (different disciplines gathered to discuss the same topic), a signature curricular element of the Graduate Group. The event also featured an exhibit in honor of the anniversary. Guest curator Carrie Robbins, Ph.D. '13, turned the Kaiser Reading Room of Carpenter Library into a "Cabinet of Curiosities" using objects from Bryn Mawr's Art and Artifacts Collection. The celebration culminated with Dale Kinney's sparklingly witty recounting of the "Secret History of the Graduate Group."
In this blog post I share excerpts from my welcome remarks at the event to try to capture what is so remarkable about this program.
"The Graduate Group is a program of distinction at Bryn Mawr. It is a model of what innovative graduate education in a liberal arts setting can look like and an exemplar of successful interdisciplinary collaboration. This group has drawn on the qualities and strengths of the departments of Classical and Near Eastern Archaeology, Classics, and History of Art to create unique opportunities for interdisciplinary study, scholarship, and dialogue between graduate students and faculty.
The Graduate Group was built upon a rich tradition of academic achievement in these three acclaimed departments. Because of the strength of that foundation and the formulation of an exciting new pedagogical model, the College was awarded an NEH Challenge Grant in 2004, which we met in 2007, thanks to the generosity of alumnae/i and friends. The grant and matching gifts created an endowment that allows Bryn Mawr to provide a yearly interdepartmental seminar to Ph.D. candidates in the three disciplines (GSem); endowed fellowships to recruit students with the ability to work in multiple disciplines; support for visiting scholars to speak with students and faculty; and graduate internship opportunities with museums and libraries in the Greater Philadelphia area.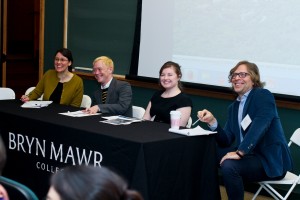 As a result of the hard work of the faculty, students, and staff, the Graduate Group enhances the rigorous graduate curriculum of each department. It capitalizes on the advantages of graduate study at a smaller institution by providing communal spaces for students between the disciplines, whether it's around the carrels in Carpenter Library or in discussion together in a GSem. It also helps students develop a network of contacts outside of their own field of study by putting them in conversation with faculty outside of their own department, at other colleges and universities, and through internship experiences at museums such as the Philadelphia Museum of Art and University of Pennsylvania Museum of Archaeology and Anthropology. And perhaps most importantly, it gives the discerning student the ability, in concert with faculty, to broaden and shape her or his own graduate education.
These diverse opportunities to shape one's own learning process in interdisciplinary conversation with faculty and colleagues have redefined graduate education at Bryn Mawr College. And it could not be possible without faculty who are willing to think creatively about their pedagogy and who model collaboration. They have shown all of us that working with other colleagues around common interests and needs can be both informative and exciting, and can provide great benefits to graduate students and to the College. More recently we have challenged the faculty to think more collaboratively about resources—whether it is in the distribution of student funding or in the planning of future hires. Their thoughtful planning is enabling us to attract the best students irrespective of department and to plan for the future of the faculty with an eye to the long-term support of the Graduate Group. The faculty's ability to work together in ways that capitalize and maintain the strengths and distinctiveness of each department while building connections in multiple ways is what makes the Graduate Group such a dynamic program.
We owe a special thanks to President Emeritus Nancy Vickers and to former Dean of the Graduate School Dale Kinney for their vision, forethought, and guidance in the creation of the Graduate Group. We are grateful to Madge Rothenberg, Sally Harrison and Ruth Lindeborg for their fundraising efforts, which endowed the program. We thank Catherine Conybeare for her excellent leadership of the Graduate Group today and for her inspired idea to have this celebration. And most importantly we owe a special thank you to the faculty and graduate students who have worked together to shape the Graduate Group with their collegial spirit, creative learning and teaching, and thoughtful scholarship. You are what make the Graduate Group a distinct and innovative program for graduate education at Bryn Mawr College and for that we are incredibly grateful."